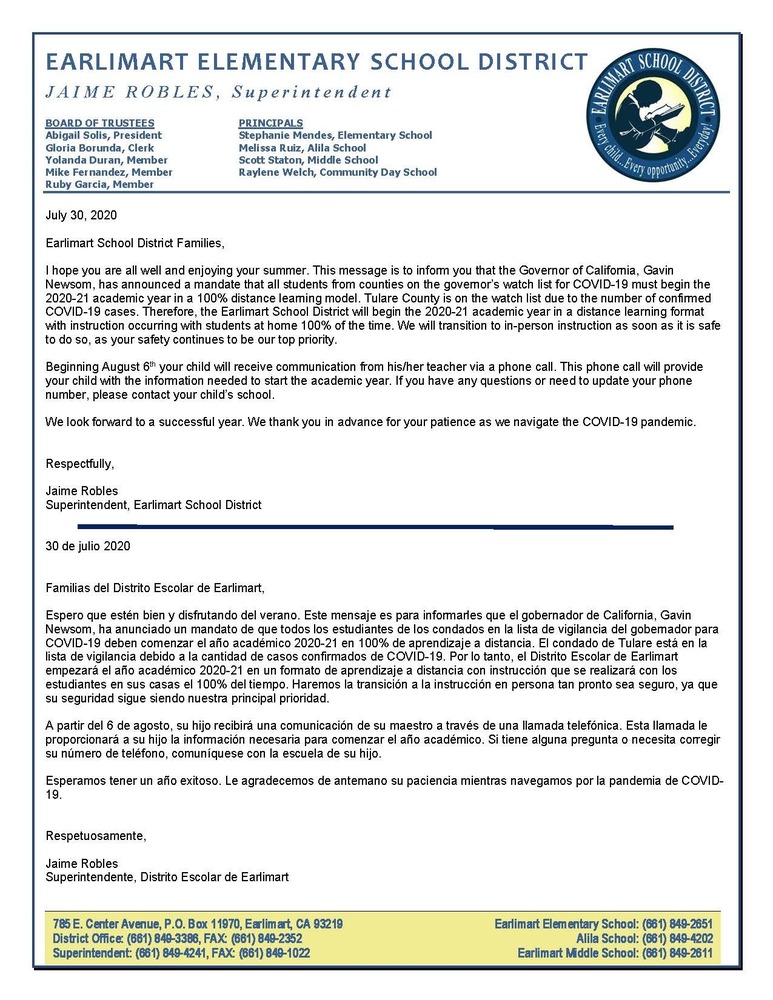 1st Day of School / Primer día de Escuela
Esmeralda Acuna
Thursday, July 30, 2020
July 30, 2020
Earlimart School District Families,
I hope you are all well and enjoying your summer. This message is to inform you that the Governor of California, Gavin Newsom, has announced a mandate that all students from counties on the governor's watch list for COVID-19 must begin the 2020-21 academic year in a 100% distance learning model. Tulare County is on the watch list due to the number of confirmed COVID-19 cases. Therefore, the Earlimart School District will begin the 2020-21 academic year in a distance learning format with instruction occurring with students at home 100% of the time. We will transition to in-person instruction as soon as it is safe to do so, as your safety continues to be our top priority.
Beginning August 6th your child will receive communication from his/her teacher via a phone call. This phone call will provide your child with the information needed to start the academic year. If you have any questions or need to update your phone number, please contact your child's school.
We look forward to a successful year. We thank you in advance for your patience as we navigate the COVID-19 pandemic.
Respectfully,
Jaime Robles
Superintendent, Earlimart School District
30 de julio 2020
Familias del Distrito Escolar de Earlimart,
Espero que estén bien y disfrutando del verano. Este mensaje es para informarles que el gobernador de California, Gavin Newsom, ha anunciado un mandato de que todos los estudiantes de los condados en la lista de vigilancia del gobernador para COVID-19 deben comenzar el año académico 2020-21 en 100% de aprendizaje a distancia. El condado de Tulare está en la lista de vigilancia debido a la cantidad de casos confirmados de COVID-19. Por lo tanto, el Distrito Escolar de Earlimart empezará el año académico 2020-21 en un formato de aprendizaje a distancia con instrucción que se realizará con los estudiantes en sus casas el 100% del tiempo. Haremos la transición a la instrucción en persona tan pronto sea seguro, ya que su seguridad sigue siendo nuestra principal prioridad.
A partir del 6 de agosto, su hijo recibirá una comunicación de su maestro a través de una llamada telefónica. Esta llamada le proporcionará a su hijo la información necesaria para comenzar el año académico. Si tiene alguna pregunta o necesita corregir su número de teléfono, comuníquese con la escuela de su hijo.
Esperamos tener un año exitoso. Le agradecemos de antemano su paciencia mientras navegamos por la pandemia de COVID-19.
Respetuosamente,
Jaime Robles
Superintendente, Distrito Escolar de Earlimart